More info
Solar Controller SUNNY SCOUT BASIC

SUNNY SCOUT BASIC is a high-performance, microprocessor-controlled unit for controlling solar thermal systems. It has 1 output and 3 inputs.

Features:
- Intuitive operating menu with graphic symbols and four operating buttons
- Digital adjustable values
- Integrated operating hours counter for storage tank charging
- Solar circuit pump RPM controll or switching controll
- Extensive functions for system monitoring that display symbols to indicate errors and faults
- Storage of all values even during a prolonged mains power supply outage
- Various protective functions, such as system protection, collector protection, recooling and flow monitoring
- Generous wiring space

Diagram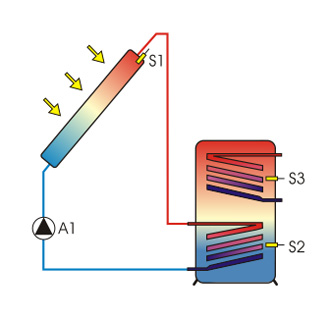 SUNNY SCOUT BASIC controls solar power systems equipped with one collector and one storage tank.
The controller compares the temperatures of the various measuring points and op-
timally charges the storage tank.



If the collector temperature exceeds the storage
tank temperature, the solar circuit pump is switched on. Monitoring and protection functions ensure safe operation.
The output A1 can be operated using an RPM control.

What is in the box:
Controller
Manual in German, English, French

The device is made in Germany
Specifications:
Housing
Material
100% recyclable ABS-housing for wall instal-
lation
Dimensions L x W x D in mm, weight
175x134x56 mm; 360g
Protection class
IP20 according to DIN 40050, EN 60529
Electrical specifications
Operating voltage
AC 230 Volt, 50 Hz -10...+15%
Fuse protection
Fine-wire fuse 5 x 20mm, 2A/T
(2 amperes, delayed-action fuse)
Max. cable cross-section
230V connections
2.5 mm² fine-wire/single wire
Radio interference level
N according to VDE 0875
Temperature sensor /
measuring range
PT1000, 1 kOhm at 0°C
-30°C .. +250°C
Testing voltage
4 kV 1 min according to EN 60730/DIN, VDE
0631, IEC 60664/IEC
Output Voltage
Power - switching output
230V~
1A / approx. 230VAfor cos φ = 0,7-1,0
Miscellaneous
Operating temperature
0 ... + 50°C
Storage temperature
-10 ... + 65°C