More info
Digital Solar Controller primos 250 SR
Flexible solar circuits controller for the control of solar heating systems Temperature difference controller for solar systems and integrated multi-function controller for flexible system extension.
Comfortable and intuitive user interface with 4 menus for monitoring and controlling and 4 operating buttons
LED-backlit LCD display
Micro SD-card interface
Data logging (data storage)
System specific parameter setup (storage and loading of parameter sets)
Firmware update
Prozeda bus
Internet connection, remote visualization and remote maintenance (conexio 200 web module)
Real time clock
1 pre-defined solar diagram (can be switched off)
Energy yield measurement (flow indicator)
Multi function controllers with pre-programmed controller functions
Intelligent pump speed control
Target temperature charging (heat source min. temperature)
Tube collector function, time or solar radiation controlled, with adjustable time slot
Drain-Back function, time and radiation controlled
Holiday mode
Protection functions, such as system protection, antifreeze protection, collector protection and flow monitoring
Service and status messages with flashing symbols and acoustic warning signals
Parameters remain consistant even after a power outage
1 output 230V AC
1 PWM or 0-10V analog outputs for HE pumps
1 potential free output
4 temperature inputs PT1000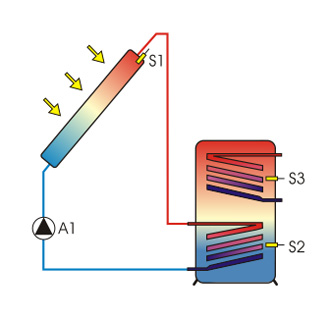 What is in the box:
Controller
1 collector sensor
1 storage tank sensor
Manual in German, English (PDF)


The controller is developed an manufactured in Germany.
Technische Daten:
Gehäuse
Material
100% recyclingfähiges ABS-Gehäuse für
Wandmontage
Maße L x B x T in mm, Gewicht
175x134x56 mm; ca. 360g
Schutzart
IP20 nach DIN 40050, EN 60529
Elektrische Werte
Betriebsspannung
AC 230 Volt, 50 Hz -10...+15%
max. zulässige Stromaufnahme incl. Pumpen/Ventile
1A
interne Gerätesicherung
Feinsicherung 5 x 20mm, 2A/T
(2 Ampere, träge)
Standby Verluste
0,8 W
max. Leitungsquerschnitt für die 230V-Anschlüsse
1,5mm² fein-/

eindrähtig

Temperaturfühler
PT1000, 1,0 KOhm bei 0°C
max. Leitungsquerschnitt für die Sensoren
1,5 mm² fein-/

eindrähtig

Steuerausgang für HE Pumpen
PWM-Signal: 1kHz, ViL < 0,5 V DC, ViH > 9 V DC, 10 mA max.
Analogsignal: 0 ...+10 V DC +/– 3%, 10 mA max.
Schaltspannung
Leistung je Schaltausgang
230V~/
1A / ca. 230VA für cos φ = 0,7-1,0
Sonstiges
Betriebstemperatur
0 ... + 50°C
Lagertemperatur
-10 ... + 65°C